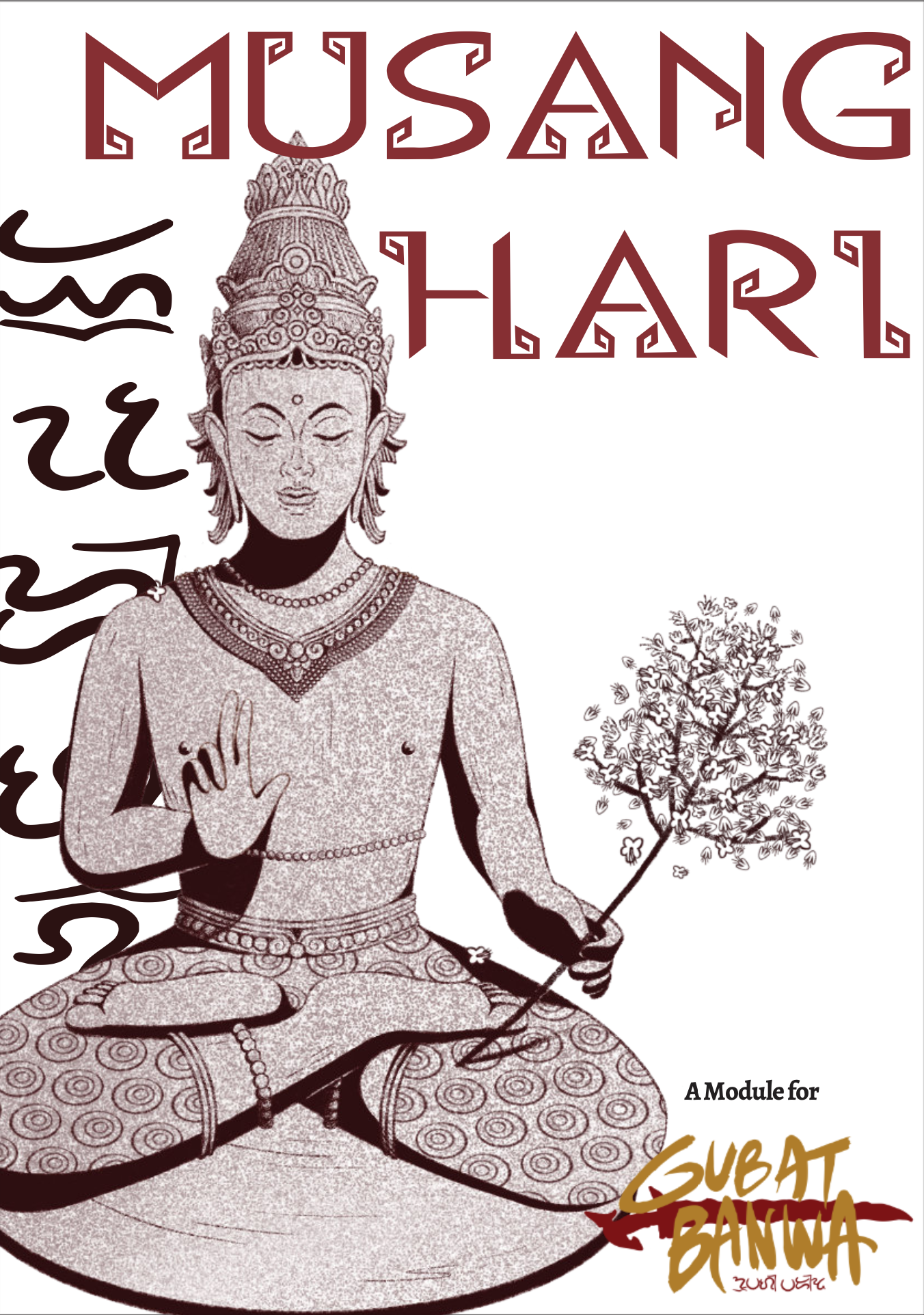 Musanghari
A downloadable island zine
The statues of the Tranquil Sage pock the grasslands: sat and holding up three fingers: his thumb, his pointer, and his middle finger: peace and love used like a blade will conquer. The shore settlement of Ginid, who all speak the conqueror tongue of Virbanwa, shrug when you ask them. "We don't know who put them there."

*
In the settlement of Ginid, people do not recognize the Lakanate's conquest. They laugh, in the distance, behind bamboo houses, underneath datu longhouses. The Datu is a sorcerer, blind, but powerful. His entourage is a sarok-wearing cat royal and a spirit medium of spider lily. A blacksmith provides essential equipment but is shunned as a heretic, since he owns dogs.
Deep in the forest, a village of civet cats thrive. They were all displaced, but they are a rowdy bunch. Some wish to kill demons, others wish to find that secret place. Musanghari. Their elder wishes to reunite with Musanghari itself, return to that ancient kingdom. But can Musanghari ever be found? Does its ruler wish to return to war torn isles?
*
MUSANGHARI is an island zine written for Gubat Banwa, compatible with First Edition. Inspired by the Zhu Fan Zing's depiction of Mayi, the first recorded Philippine state, where the Chinese traveler recorded "metal buddhas" and "large marketplaces". Musanghari is a 50-page island for Gubat Banwa packed with strange monkey warriors, civet cat river settlements, ancient pottery sorcery techniques, smiths who make divine armor for dogs and an ancient sleeping god-king who once ruled over the isles, harboring sorcery to shake heaven.
Within are a few settlements, a d100 list of items that you can find, and an ancient tomb that you can delve into. Alongside this are a number of NPCs with their own little quirks and wants. For Gubat Banwa players, these include a couple of new Anting-Anting that you can use.

This one is heavily inspired by the first accounts of Mayi, as well as A Thousand Thousand Islands. Art is from Ar-Em Banas (@rmbananas), Kael Molo (@kolokomiks) and Dylan Briones (@illsvillainy). Other art is from Unsplash, Pixabay, and Wikimedia Commons!

Purchase
In order to download this island zine you must purchase it at or above the minimum price of $10 USD. You will get access to the following files: